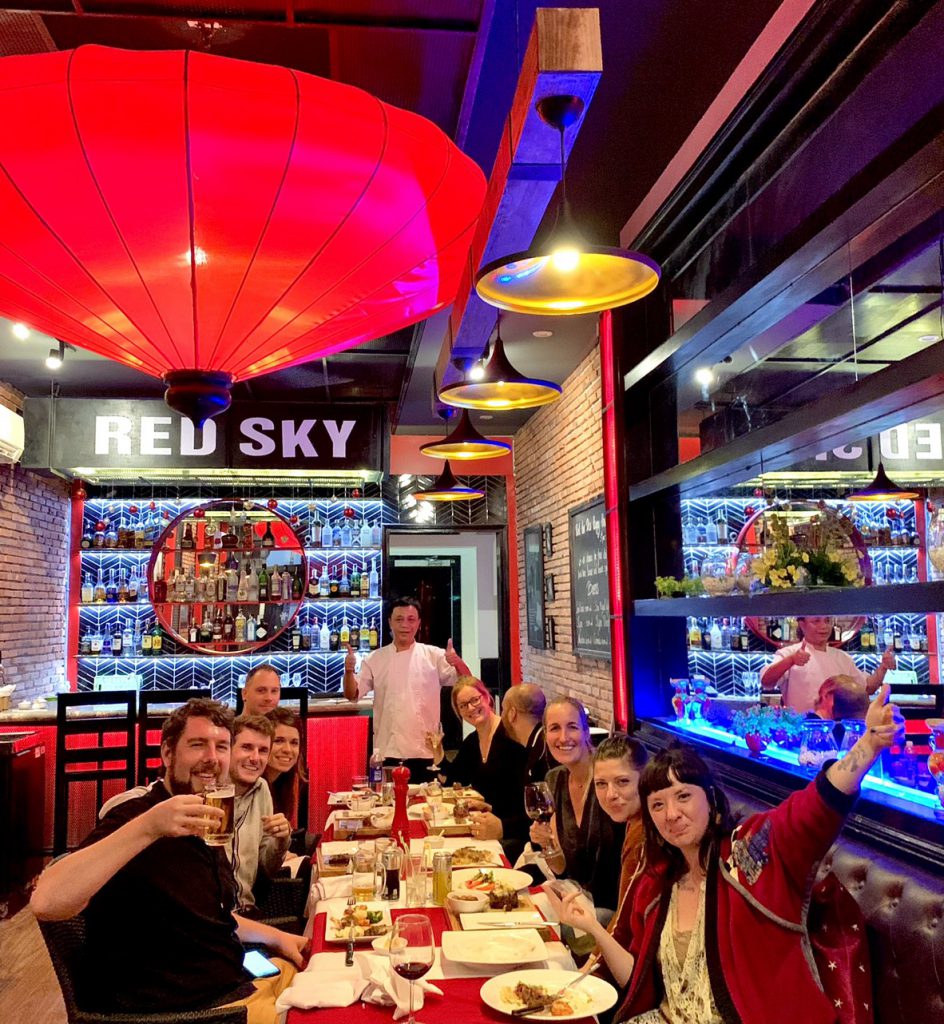 Red Sky Steakhouse for enjoying the amazing Steaks & Western food in Danang City.
Red Sky Steakhouse is located at 248 Tran Phu Street, one of the most beautiful streets in the city centre, two minutes walk to the Dragon Bridge, is ideal for socializing, meetings and romantic dining alike.
A one floor open space with a spacious dining area, comfortable bar, private room for meetings or small parties and an inviting terrace all in the heart of Da Nang.
Red Sky serves main courses of beefsteak and wines. At Red Sky, you can indulge in romantic music, modern, vintage-mixed space.
Red Sky is a placid and peaceful atmosphere for people who enjoy the slower pace of life .The restaurant is suitable for romantic dates, cozy family reunions or meetings, conferences need a tranquil space.
This is also an ideal destination for young people who love Western style and cuisine.
Red Sky's space is decorated in a romantic and minimalist style with every smallest detail from warm yellow lights to the menu layout on the table.
That to bring a feeling of luxury and relaxation enough to satisfy customers when visiting. The restaurant's space is not too large, just enough for meetings to become more intimate and have a sensation of warmth and comfort when the guests enjoy.
Red Sky Steakhouse offers delicious steak and western dishes. Steak, the food that Red Sky is famous for is absolutely a must-try for any diner typically Steak OP Rib , Wagyu Tomahawk , Meat Lover Platter, …
All the food is made by five standard professionals chefs who have 20 years experience in cooking at five stars resorts and hotels.
Besides, the restaurant's menu was various homemade pastas, salad with diverse sauces so diners enjoyed more choice.
We have an extensive selection of sparking and champagne and over 30 imported wines and hundreds of cocktail combinations..
Red Sky Steakhouse will bring for guests memorable experiences through  tremendous food quality , great ambience and  good service.
Red Sky Steakhouse
Address: 248 Tran Phu Street, Danang City
Hotline: 0236 3894895 / 0905727576
Email: redskydanang@gmail.com
Website:https://redskydanang.com.vn/